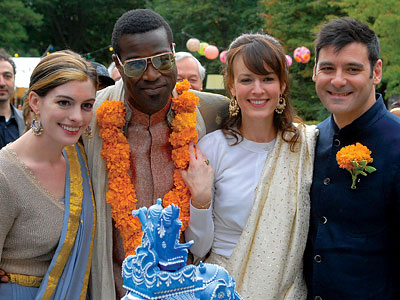 Thank you,
Los Angeles Times.
Rachel Getting Married
was one of the most pretentious movies I've ever come across. Nothing like a movie written by the
daughter
of
Hollywood royalty
to miss the mark so completely when it comes to showing "how families get along." Yeah, because everyone has a "small family, DIY wedding" with multiple, ethnically- and stylistically-varied musical acts on the sprawling grounds of a Connecticut mansion. It's not very often that, when watching a movie, I find something wrong, cringe-worthy, or too hipster for words in EVERY DAMN SCENE. I think the
coup de grace
would have to be the casting of the lead singer of TV On The Radio in major supporting role. Not that I dislike the band, but can a movie try any harder to say, "Come to me, my Ramones shirt-wearing children. Have some organic, vegan taboulleh before settling into your Joanna Newsom concert."
Gag. Still, I blame the filmmaker and writer, not the lovely Anne Hathaway. She can do wrong in my book. So pretty.
And her appearance on Saturday Night Live was pretty damn funny.